Choosing a Mother of the Bride Outfit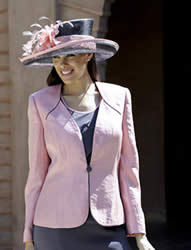 Weddings take a lot of arranging, and the brides mother is often pivotal to ensuring that the day runs smoothly and the bride remains calm. As it's the most important day of your daughter's life you are going to want to make a special effort with your outfit for the big day. It's often hard to find something suitable and within your budget, which can be stressful given that everyone likes to scrutinise what the bridal party are wearing. This means it's important to find the perfect mother of the bride outfit.
Consider fabric, style, and colour. What colours suit you? Are there fabrics that you have seen which you think would look good? Do you want a skirt suit or would a dress be more appropriate for the mother of the bride? If you are having problems do try to take your daughter with you – she will give you honest opinions about how you look in what you try on. Something that you can't always rely on with dress shop staff. Try to make your choice nice and early. The last thing you are going to need 3 weeks before the nuptuals is running around trying to grab yourself a suitably sophisticated outfit. It will also give you time to inform the grooms mother of your colour scheme if you are both worried about clashing outfits.
Also make sure that you give plenty of thought to accessories in good time. Buying a dress alone is often not enough. What handbag will you use? Do you need special hosiery or shapewear to smooth out those lumps and bumps? Getting these things organised can sometimes take longer than you think so make sure that you buy them with plenty of time to spare and try on the outfit with all your accessories to make sure that everything works together.
Whatever you decide you need we think a great site for shopping for outfits and accessories is MotherOfTheBride.org.uk – check it out to get all the latest advice and information on suitable attire!